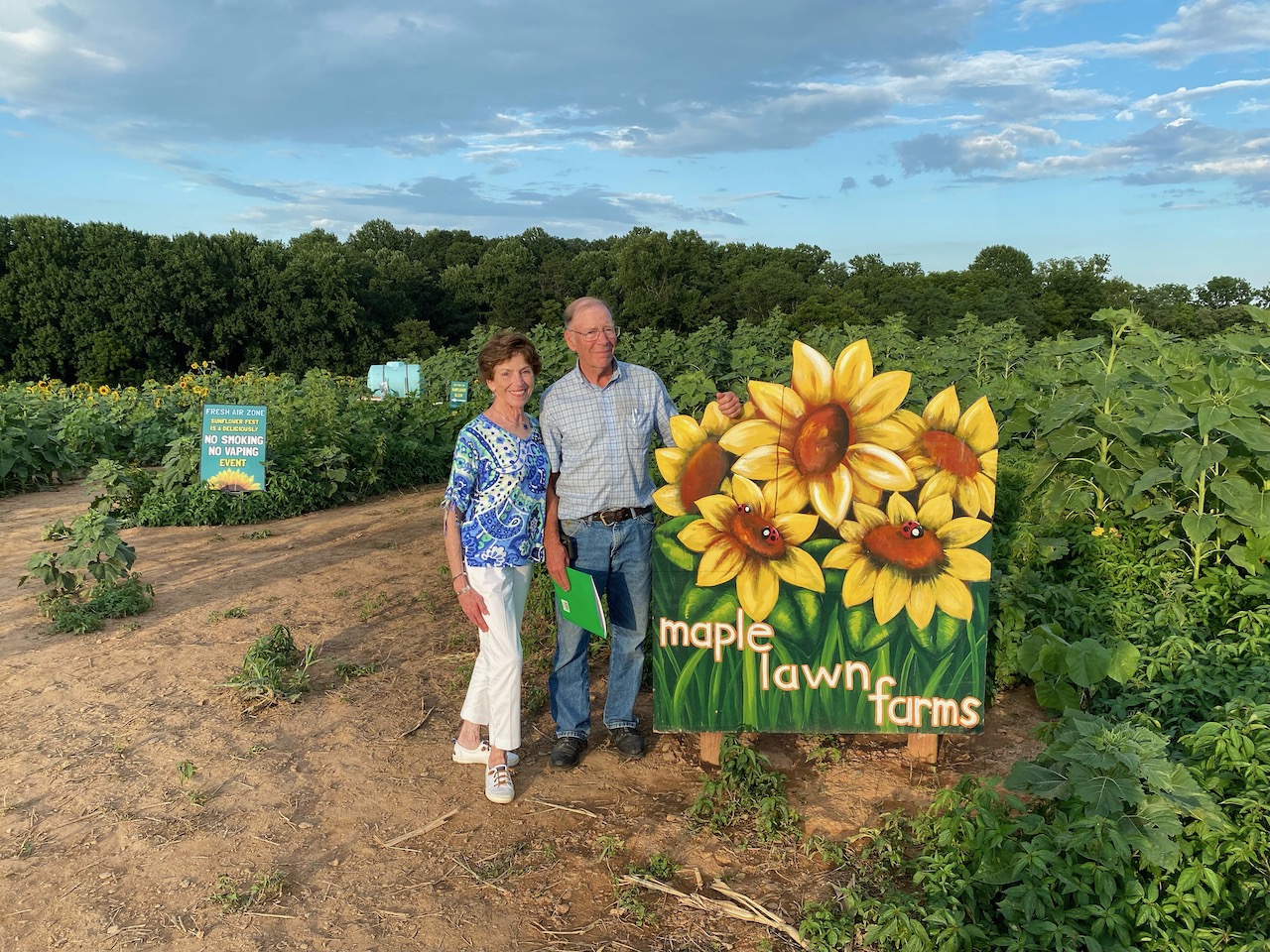 "80 out of 130 years."
I've sort of always felt like a kid. No matter what age, so far anyway, I feel like the world is new, and I want to explore it.
My Dad just turned 80 on Aug 2nd. My Aunt Margaret, pictured next to him in the sunflower festival field, and I wanted to do something special, so we're working on a family timeline that will eventually be on display for you all to see in the farm market area.
In that process, we found a deed for what we think is the 2nd farm purchased by a family McPherson in 1888. It just hit me that my Dad has been around for 80 of the 134 years of our family farm.
Dad is 4th generation, and I'm 5th generation to farm this land, but we're each "1st generation" at many things.
Dad was the first to build a modern peach packing house housed in the building you know as the market. He was the first to build a modern grain elevator to weigh, dry, and clean grain crops. He was the first to create a farm market, add a bakery, and hydro cool peaches from the field with chilled water to protect them from ripening too soon.
Even at 4th, he's been 1st a lot.
I may be 5th, but I was 1st to create a corn maze, pumpkins, sunflowers, lavender, winemaking, and full-scale agritourism events.
My mom was 1st for school tours & hayrides, though! She was the first to use computers, spreadsheets, and more to track the farm's progress.
Dad's not done being 1st at things, and he's supportive of all the firsts at which I've tried and succeeded or failed. We are finally taking the plunge to install solar panels along the roof of the packing house he built back in 1968.
I wonder if somedays he and I look at each other and simultaneously think, "How does he do what he does?!"
Paul has seen 80 years out of 134 years of this family farm. I wonder what it will look like in another 33 years when I (potentially) would have seen 80 of 167 years.
I don't know what the year 2055 holds, but this week in 2022 offers 250,000 sunflowers, StarFire, Flaming Fury & Coral Star peaches, bakery treats, delicious wines, and a whole lot cooler temps for YOU, out on the farm.
See you soon,
Farmer Hugh