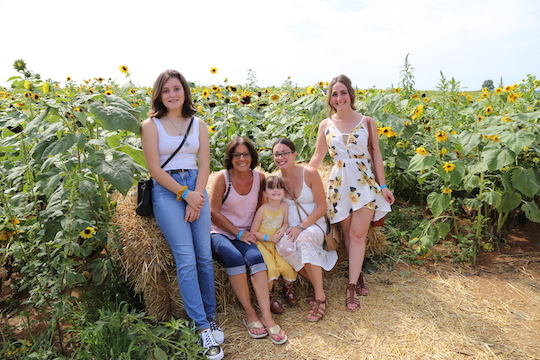 Hey gang,
It's a simple message today.
My kids are going back to college; back to high school next week.
The seasons are changing as peaches, nectarines and summer apples come to a close over the next two weeks.
You never know what next week will bring, so you have to grab life's little moments as they come.
The sunflower field is in dazzling beauty right now, but by next Tuesday, it will be bloomed out, never to be seen again. Even next year's field will be different.
Sometimes we must grieve that loss, that passing of time, of seasons.
Fall arrives shortly with cooler weather and changes with winter close thereafter.
Sure, it might be a little warm outside, but the sunshine must be enjoyed now – in the fresh, country air.
Wandering the fields with your family, friends, special someone – that must be done now.
Escape to the farm. Put one more delicious, outdoor getaway between you and the end of summer. Join us in a field full of flowers, of beauty, of smile-inducing joy.
See you in the sunflowers,
Farmer Hugh
Farm & Winery Open Hours
Pick-Your-Own: Mon-Sat 8AM-5PM, Sun 1PM-5PM
Farm Market: Mon-Sat 8AM-5PM, Sun 1PM-5PM
Bakery: Fri-Sat 8AM-5PM, Sun 1PM-5PM
Winery: Sat 12PM-5PM, Sun 1PM-5PM
Sunflower Festival: Only one weekend left -> Aug 20-22
Maize Quest: Opening Saturday Sept 4, 2021!
We're handling the classic Top Ten questions:
What peaches are in? Coral Star – yellow, Blushing Star – White
What Nectarines are ready? Nectarines are the feature this weekend! SunGlo & Fantasia are OVERFLOWING the branches with EASY picking!
What apples are ready? ZeStar & Blondee in the new orchard, close to the farm market.
How much to pick? Peaches and apples are $28 per half/bu, but just $24 per half bushel when you pick ANY two or more!
Is the Sunflower Festival happening, and are the blooms good this weekend? There are a ZILLION blooms ready for this weekend, and they are spectacular!!
What are prop stops? We have favorite and NEW prop stations in the flowers for your Instagram, family photo, and girlfriend pictorial delight! Old truck, straw bale couch, screen door frames, 1938 Combine, Split rail fence and wagon wheels, and more!
Will you be open in the heat of Friday? YES – Prepare with big shady hats and cool clothes, bring water, or prepare to purchase cold water here. Spend time in the shade of the GIANT sunflower fest tent.
What food is available at Sunflower Fest? We have a complete list of food vendors below, but we'll have pit meats, roasted corn, baked potatoes, fancy hot dogs, and more. Plus, Maple Lawn Winery wines, beers, and slushies!
What is dead-heading? Watch the video above! We remove the spent blooms from the sunflowers to relieve weight and stress from the plant, so the sunflower can continue blooming!
Are you open in the evenings for sunset pictures? YES The nexrt two Saturdays We are open with arrivals thru 6:30PM for sunset pics open through 8:30PM
See you soon on the farm,
Farmer Hugh
PS Sunflower is only two more weekends; then it's OVER! Aug 13-15 & Aug 20-22 – then the blooms are gone!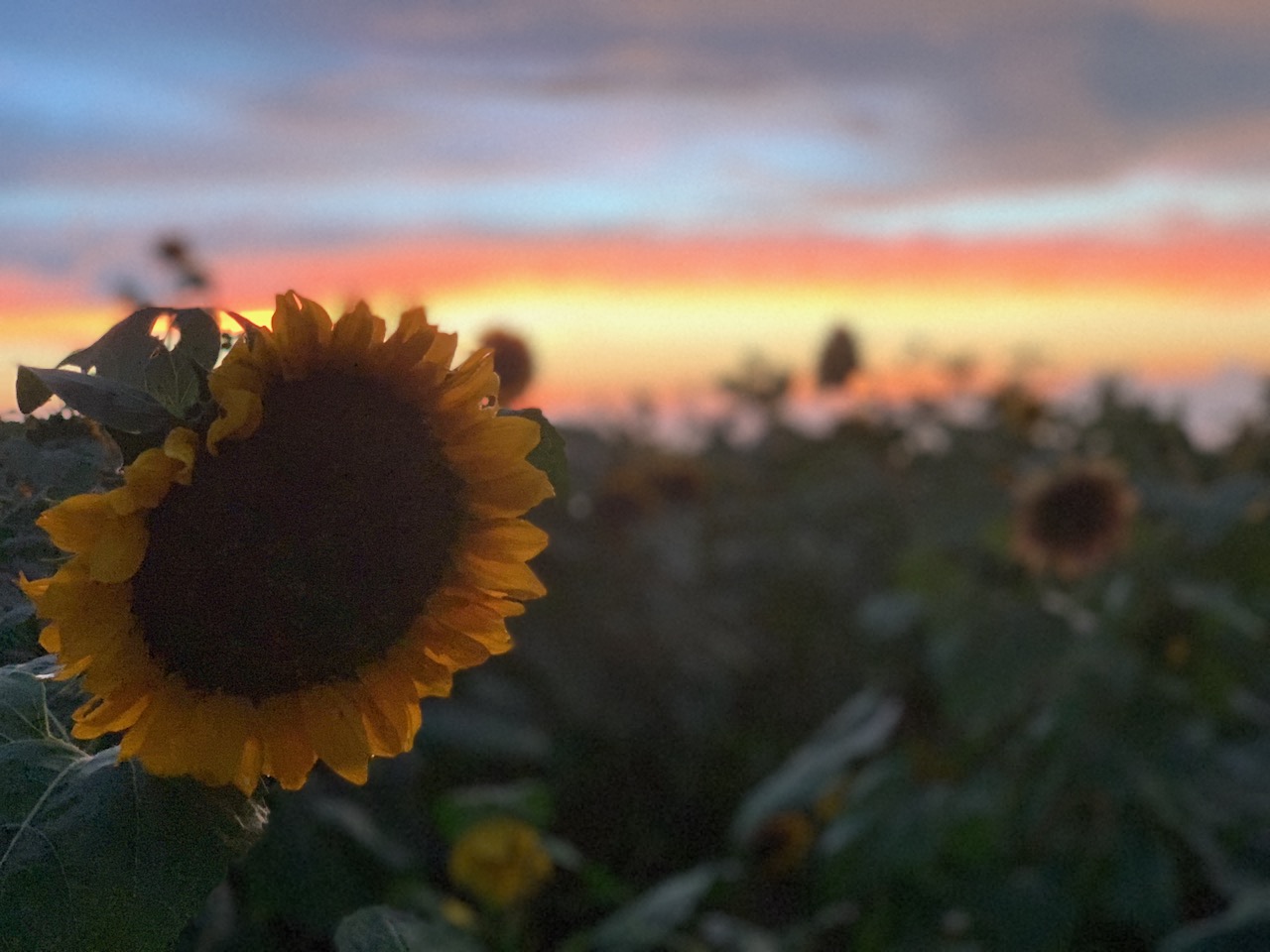 Details for the next two weeks…
Friday, August 20th:
Food:
Kimmy's BBQ Brought 2 U: 10:00am – 5:00pm
Maple Lawn Farm Market:
10:00am – 5:00pm
Saturday, August 21st:
Food:
Kimmy's BBQ Brought 2 U: 10:00am – 8:00pm
Baron VonSchwein: 11am-4pm
Wok Runner: 11am-4pm
Maple Lawn Farm Market:
10:00am – 5:00pm
Bands:
Barlee Red: 10:30pm-12:30pm
Swing Street Trio: 1:00pm-3:00pm
Skribe: 3:30pm-5:30pm
Phipp & Phriends: 6:00pm-8:00pm
Sunday, August 22nd:
Food:
Kimmy's BBQ Brought 2 U: 1:00pm – 5:00pm
Baron VonSchwein: 1:00pm – 5:00pm
Wok Runner: 1:00pm-5:00pm
Maple Lawn Farm Market:
1:00pm –5:00pm
Bands:
Nathan Merovich: 1:00pm-3:30pm
Braham Noodles: 4:00pm-6:00pm
Coming Sept 10-11
Wine Your Way Out
Yep – Wine Tasting INSIDE the Corn Maze!
Stay tuned for details & Tickets with
Maple Lawn Winery
Sunflower Festival is heating up with hundreds of tickets and time slots already reserved! Don't miss your favorite date & time reservation->