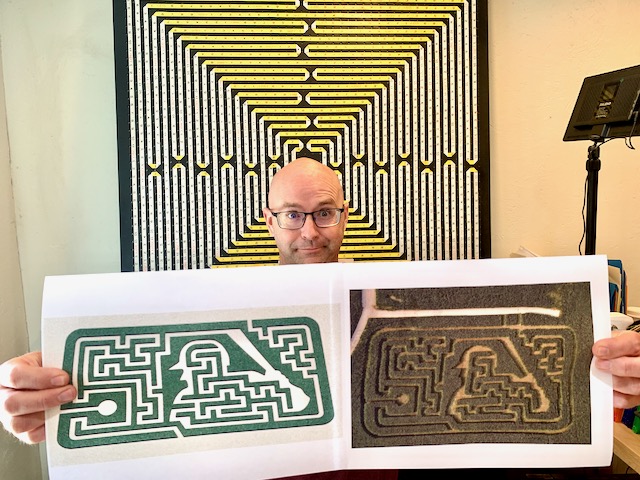 EXTRA EXTRA! The Secret is revealed…
Did you see that maze last Thursday on the Major League Baseball game debut at the Field of Dreams park in Dyersville, IA?
Yep – You know the designers.
(Story Below…)
Farm & Winery Open Hours
Pick-Your-Own: Mon-Sat 8AM-5PM, Sun 1PM-5PM
Farm Market: Mon-Sat 8AM-5PM, Sun 1PM-5PM
Bakery: Fri-Sat 8AM-5PM, Sun 1PM-5PM
Winery: Sat 12PM-5PM, Sun 1PM-5PM
Sunflower Festival: Final Weekend – Don't Miss IT! -> Aug 20-22
Maize Quest: Opening Saturday Sept 4, 2021!
York County's own Maize Quest DESIGNED The Field of Dreams Maze in secret for Major League Baseball's new stadium debut
It was an unexpected call that started the two-year story leading up to Maize Quest's contract to design and cut the "Field of Dreams Corn Maze" for Major League Baseball in Dyersville, IA. The corn maze depicting the MLB logo made its public debut with the historic opening game on Thursday night between the White Sox & the Yankees.
The project was delayed by 2020's craziness for a year, but the connection, through Baam Productions, continued in secrecy to allow for the dramatic reveal in 2021.
Maize Quest has been 'losing guests' in the cornfield since 1997. In 1999, fellow farmers started calling for help creating corn maze attractions at their own farms. The corn maze design business grew to help over 80 farms annually across America, Canada and even the UK.
Each design is custom made for the field and theming requested by the farmer. The only limit is their imagination, so helping the baseball league was to us, just making sure another client was happy with the living corn maze artwork.
In 2000, we found Designer Dave Phillips who joined the team to add professional maze artwork, characters, 3-D signs and more to each farm's maze attraction. Tim Day of Shenandoah, VA travels with GPS Unit, tractor and family to each location to cut the maze through the living cornstalks.
We absolutely could not have done any of these special projects without the support of Michelle, Dave, Tim, Jenny, Matt, Janelle, my Dad, and all our staff. It takes an enormous effort for growing, building, and caring for our home farm each day in addition to all the special corn maze projects, sunflower & wine festivals.
No matter what crazy project we get ourselves into this team works so hard to deliver!
It was a real honor to be selected and entrusted with the Major League Baseball logo project, and it sure was hard to keep it under wraps. When Kevin Costner and the players entered through the corn stalks, I knew it was worth the wait.
We received a message from the project coordinator after the opening game night that speaks to the team's hard work:
"It was great to see all the players very specifically go into the maze for some fun and relaxation before the game. It has been a real pleasure to work with Maize Quest and I am so happy we got [the maze] in this year."
– Ray Salverda, manager who oversaw the Field of Dreams project
These projects come along just a few times in a lifetime and we share it with you, our local friends and guests, because we might not see Kevin Costner at our farm, but taking care of you in the sunflower patch, pumpkin patch, apple orchard or corn field is our "Field of Dreams."
Thanks for all your support and encouragement over the years. We can't wait to see you this weekend 🙂
Farmer Hugh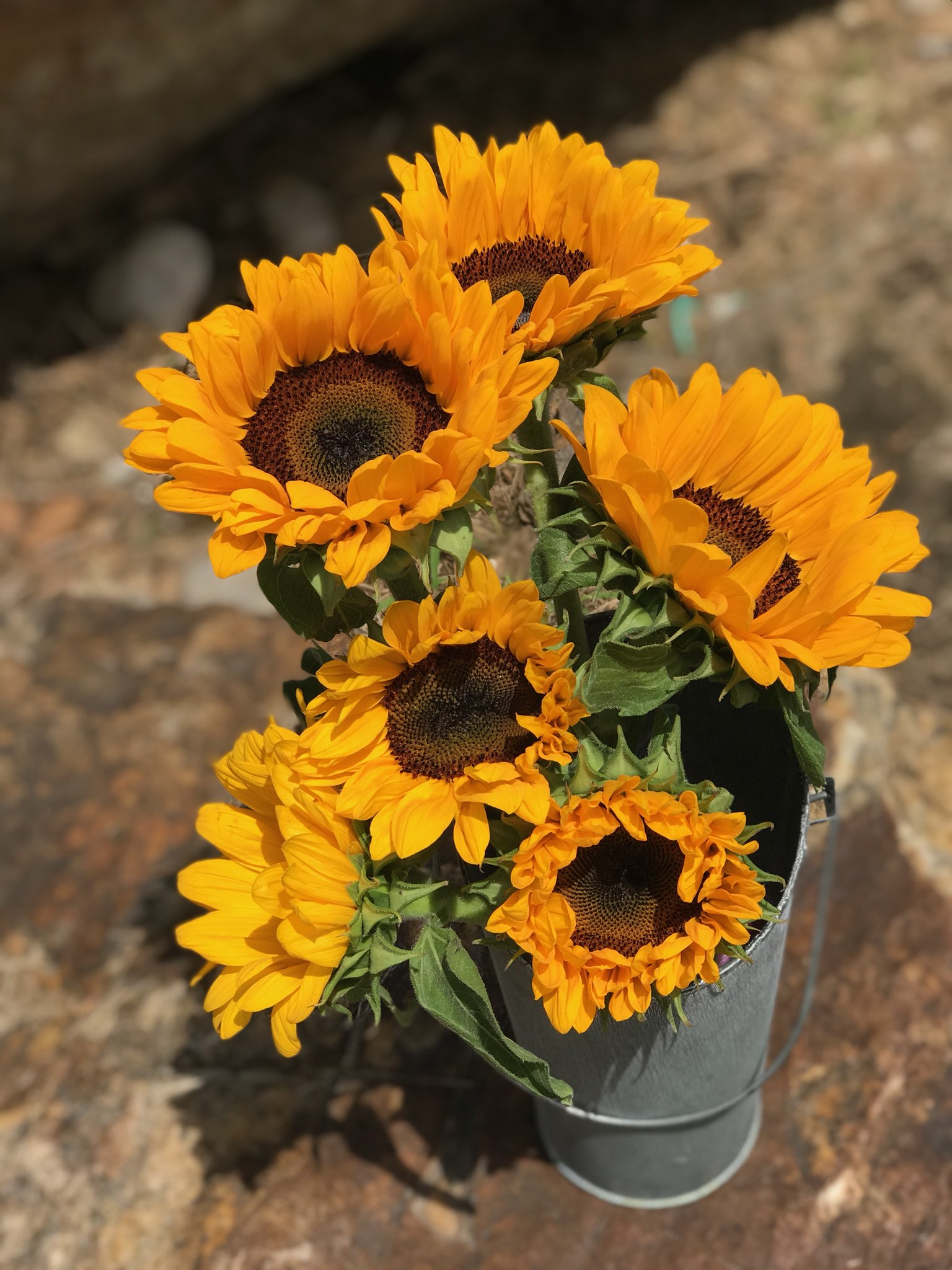 Top Ten Sunflower Festival & Peachy Weekend Questions:
What peaches are in? Coral Star – yellow, Blushing Star – White
What Nectarines are ready? Nectarines are the feature this weekend! Fantasia are OVERFLOWING the branches with EASY picking!
What apples are ready? ZeStar & Blondee in the new orchard, close to the farm market.
How much to pick? Peaches and apples are $28 per half/bu, but just $24 per half bushel when you pick ANY two or more!
Is the Sunflower Festival happening, and are the blooms good this weekend? There are a ZILLION blooms ready for this weekend, and they are spectacular!!
What are prop stops? We have favorite and NEW prop stations in the flowers for your Instagram, family photo, and girlfriend pictorial delight! Old truck, straw bale couch, screen door frames, 1938 Combine, Split rail fence and wagon wheels, and more!
Will you be open in the heat of Friday? YES – Prepare with big shady hats and cool clothes, bring water, or prepare to purchase cold water here. Spend time in the shade of the GIANT sunflower fest tent.
What food is available at Sunflower Fest? We have a complete list of food vendors below, but we'll have pit meats, roasted corn, baked potatoes, fancy hot dogs, and more. Plus, Maple Lawn Winery wines, beers, and slushies!
What is dead-heading? Watch the video above! We remove the spent blooms from the sunflowers to relieve weight and stress from the plant, so the sunflower can continue blooming!
Are you open in the evenings for sunset pictures? YES The nexrt two Saturdays We are open with arrivals thru 6:30PM for sunset pics open through 8:30PM
Details for FINAL weekend…
Friday, August 20th:
Food:
Kimmy's BBQ Brought 2 U: 10:00am – 5:00pm
Maple Lawn Farm Market:
10:00am – 5:00pm
Saturday, August 21st:
Food:
Kimmy's BBQ Brought 2 U: 10:00am – 8:00pm
Baron VonSchwein: 11am-4pm
Wok Runner: 11am-4pm
Maple Lawn Farm Market:
10:00am – 5:00pm
Bands:
Barlee Red: 10:30pm-12:30pm
Swing Street Trio: 1:00pm-3:00pm
Skribe: 3:30pm-5:30pm
Phipp & Phriends: 6:00pm-8:00pm
Sunday, August 22nd:
Food:
Kimmy's BBQ Brought 2 U: 1:00pm – 5:00pm
Baron VonSchwein: 1:00pm – 5:00pm
Wok Runner: 1:00pm-5:00pm
Maple Lawn Farm Market:
1:00pm –5:00pm
Bands:
Nathan Merovich: 1:00pm-3:30pm
Braham Noodles: 4:00pm-6:00pm
Coming Sept 10-11
Wine Your Way Out
Yep – Wine Tasting INSIDE the Corn Maze!
Stay tuned for details & Tickets with
Maple Lawn Winery
Sunflower Festival is heating up with hundreds of tickets and time slots already reserved! Don't miss your favorite date & time reservation->