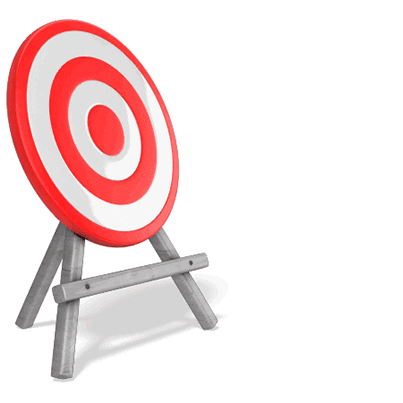 [Recap] In a world of marketing choices, we suggest you create three focus areas, here listed by priority:
Content creation
Online advertising
Customer collection & follow-up
We'll split these up into three emails, one for each topic over the next few blogs. You can always email questions along the way.
Part 2 of 3
"Moving targets" – Online Advertising.
Hey, [[ contact.first_name | default: 'Friend' ]],
Part 2 – Online advertising In an upcoming marketing course called the Event Tsunami, we'll provide the final blueprint for online advertising, but the concepts we'll share here you can use right now.
You can't start the week before the event. Even with instant activation of online advertising campaigns, the advertising platform's algorithms need time to gather data to make the right choices on which ad, picture, and text to use for the result you want. We recommend a minimum of 60 days from your event date to allow enough time to get everything in place to drive sales for your event.
Recently, we've used Facebook's "Dynamic Creative" to test out different pictures, headlines, and text blocks to find the best combination without having to make individual ads with all the possible combinations. The system, given enough time, determines the best combination for results.
Critical Mass Marketing. If you want to sell 1,000 tickets, you might need 10,000, 50,000, or 100,000+ potential guests aware of your event. If you fail to reach critical mass early enough, potential visitors do not have enough time to plan, coordinate, and complete the ticket purchase.
When marketing our Wine-A-Ritaville event in June, we 'outsmarted' ourselves by narrowing our audience too early. We didn't have enough total traffic to the event to reach critical mass. I added a general Facebook Traffic Campaign aimed at our ticketing page during the last 7 days once I discovered the problem, but it was too late. We held a wonderful event, but could easily have hosted 50% more guests and made it profitable.
Early in the marketing cycle, focus online advertising campaigns on driving total visitors to your site, Facebook Event, or Instagram feed. Think of putting your event or products in front of enough people to achieve a 'critical mass.'
Close with conversions. The final sprint to the end of your marketing cycle is using conversion campaigns. A Conversion is a sale. Conversion campaigns take weeks to gather data and figure out what type of prospect is purchasing your tickets. When they do figure out who is buying, a conversion campaign optimizes itself to sell your tickets or products more effectively.
Facebook and Google both offer Conversion Campaigns. Instagram is much less direct, as it only qualifies for a limited number of Facebook campaigns. Manage both Facebook and Instagram campaigns through Facebook's Business Manager and Google through Google Ads dashboard.
Next week, we'll look at what to do with customers and leads, potential customers, once you have ad campaigns generating new leads in the "Customer Collection & Follow-up" post.
Have a great marketing week!
Hugh
PS We have worked with Pedal Karts USA who offer Prime Karts, based in Florida, and have confirmed Prime's commitment to the US and Canada commercial markets and commercial kart products.
If you need karts for this season, please call Dave Hahn at Pedal Karts USA (717) 881-9200. We collaborated on a FREE Pedal Kart Track Building & How-To Video Series