Farm: Mon-Sat 8AM-5PM, Sun 1PM-5PM
Maze: Sat 10AM-4PM, Sun 1-6PM, Pumpkins are here!
Winery: Sat 12-5PM, Sun 1PM-5PM
"The most wonderful time of the year" Andy got it wrong.
Hello from the farm!
Joy fills my heart as pumpkin season commences, and people start the search for their perfect pumpkin. Each pumpkin is so tuned to the individual.
Warty pumpkins. Big pumpkins. Tiny baby pumpkins. White pumpkins. Gooseneck gourds.
Each finds a special place in someone's heart and home as a decoration. Each speaks to a different person in a special way.
The thrill of the hunt. Searching our gigantic field, the size of ten football fields is the best. The search will be incredible this weekend with the most enormous pumpkins still in the patch but hidden by huge leaves just starting to turn brown.
The ease of the pumpkin display. We load our display with over 9,000lbs of pumpkins, straight from the field, each year and then refill it every week to keep the best variety available for your decorative ideas to take flight. New wagons. We've made it easy to decorate.
Our new wagons are priced, so that ANYTHING you can fit into the wagon is a single price! We have so many pumpkins in need of a home that we have to move a vast quantity at volume prices to get the crop into our guests' hands. You may still purchase a single pumpkin or just a few, whichever way works for you!
Post your pictures. Please, post your photos to us so we can see what you do with our pumpkins! We are so excited to see the fantastic creations made using our pumpkins, gourds, and apples. We'd love to see it, so make sure you post and tag us 🙂
Pumpkin season is a respite from the every day. When you decide that you are coming to the farm, you can put the world on the back burner. Pumpkin and apple picking season is a respite from the everyday drudgery that is virtual school, work from home, and pandemic response.
You'll see no political messages here! We are the oasis in a storm of controversy; join us for a fun, family day out to escape the news cycle.
We are so excited to host you for the corn maze, pumpkin picking, apple picking, bakery, fudge, kettle korn and all your fall favorites!
See you soon on the farm.
Farmer Hugh
APPLES: Get Honeycrisp in the Farm Market, Fuji, Smoothee Golds, Red Chief, Jonees, and Empire Apples u-pick this weekend.
Pick-your-own is our favorite way for our apples to find a home, and you can get the #1 varieties while supplies last in the orchards.
Just $24/half bu, just $20 if you pick 2 or more bags.
Remember that we'll be selling these as pick-your-own in our one-time-use plastic 1/2 bushel picking bags so you can safely take the apples home after picking. Please, no containers from home.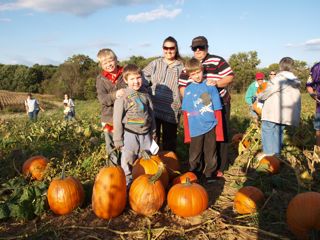 Pumpkin Patch Opens this weekend!
Bring your mask for shopping indoors, riding the wagon and interacting with our staff, then enjoy mask-free picking as you can easily social distance in the gigantic pumpkin patch
Pumpkins are just $.75 per pound, but NO pumpkin costs more than $15 – no matter how big.